Virgin London Marathon - 24/04/2016
« back
24 April 2016
approx 1 min read.
CLC Striders had six athletes competing in the London Marathon.
Juan Moreno pictured, led the Striders home in a PB time of 2.44.12. Moreno ran consistent splits throughout the race and was rewarded with a fabulous time.
Next for the Striders was Will Pearce who broke the 3 hour barrier for the first time recording an excellent 2.59.29. Paul Northup followed Pearce in a brisk 3.10.06; ultra distance runner Laura Gush followed Northup; Gush  ran well and recorded a time of 3.14.26; Neil Broadbent followed Gush, and despite recent struggles with injury, ran a respectable 3.16.28. Rich  Haslam followed Broadbent, and had a great run recording a time of 3.41.43.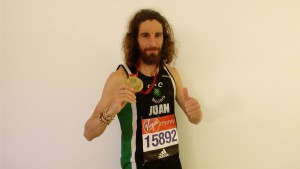 ](/images/2016/04/Attachment-1.jpg)
---