Angels 10k - Sun 17th April 2016
« back
18 April 2016
approx 1 min read.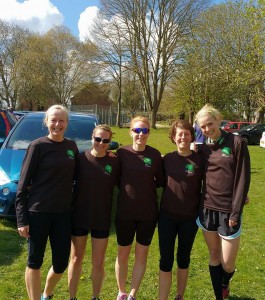 A host of CLC Striders ran the undulating Angels 10k race on Sunday 17 April, the latest race in the Gloucestershire road race series.
Women's captain Rachel Vines set off confidently on this scenic course but was soon passed by her teammate, and relative newcomer to the distance, Karlien Heyrman, who ran an even-paced race to lead the Striders ladies home in 42:36, for second senior lady and 26th finisher overall.
Close behind a battle unfolded between Striders Amanda Steer and Amelia Mullins, who swapped positions over the challenging course and pushed each other on, with Steer claiming first Vet 45 spot in 42:50 (27th overall) and Mullins running a determined 42:58 (28th). With excellent packing from the ladies' team, Vines held on well for 44:03 (39th), before Rebecca Reynolds came in with a pleasing 48:44 (65th).
The Striders men were represented by Paul Lockyer who ran well to finish just outside the 40 minute mark in 40:46 and 17th place, and men's captain Joel Freeland put in a solid performance to finish 51st in 46:40. A strong finish by Martin Bick in 48:05 (61st), was followed by teammates Andrew Gage (50:34, 78th), Dave Mayo (52:03, 81st) and Gordon Bendall (53:05, 87th). There were 151 finishers.
---