End of summer racing round-up
« back
5 September 2017
approx 3 mins read.
The end of the summer has seen Striders busy in action both at home and overseas. Gareth Harries ran the Durban Parkrun in South Africa on 19th August, finishing 9th out of 1,300 in a time of 19:13 and on the following weekend Harries ran in Mbabane, Swaziland, at 1,150m of altitude on a course which included dead ends, barbed wire fences, a whopping 70m elevation and a detour on the main road! Harries was 7th finisher in a time of 21:08.
Tipton Open and BMC Regional Races
Meanwhile, closer to home, two Striders travelled to the West Midlands for the Tipton Open and BMC Regional Races. Paul Lockyer opted for a 200m/400m double and continued his run of fine form on the track. Slightly shy of a season's best with a solid 63.1 in the 400m, he had a storming race in the 200m where he equalled his PB with an impressive 27.2. Rachel Vines ran a solid 5:24.3 in the 1,500m.
Gloucestershire County Track Championships
The first day of September saw a good contingent of Striders travel to Gloucester to compete in the Gloucestershire County Track Championships. Over the mile distance, CLC vets excelled with new PBs for Charles Goodwin in an electric new club age record of 5:21:7, John Willson with another club age record of 5:39:3 and Andrew Gage in 6:11:9. For the seniors, Joel Freeland registered a season's best time of 5:24:4 and Will Fergusson continued his scintillating track form, setting yet another PB in a fantastically fast 4:28:5, setting a new club age record in the process.
Later on in the evening, Striders raced over the 10k distance. Iain Porter led the senior men home in a new PB of 35:25:8. He was followed by Alex Monro in a PB of 39:28:1 and Neil Broadbent in a PB of 40:34:2. For the ladies, Patricia Sturgess bagged an impressive PB of 41:29:9, Rachel Vines clocked a solid 42:49:4. Vet Amanda Steer achieved a new PB and club age record of 43:35:2 and Hannah Monro also registered a PB time of 45:18:5.
At the end of the evening Striders entered teams in the ladies and men's 4 by 400m relay events, with the women's team finishing in 5:46:2 and the men's team a respectable 4:16:7.
In the club's internal summer track competition, Will Fergusson finished top of the tree overall after a fantastic season of PBs and club records and an average age grading of 83.34%.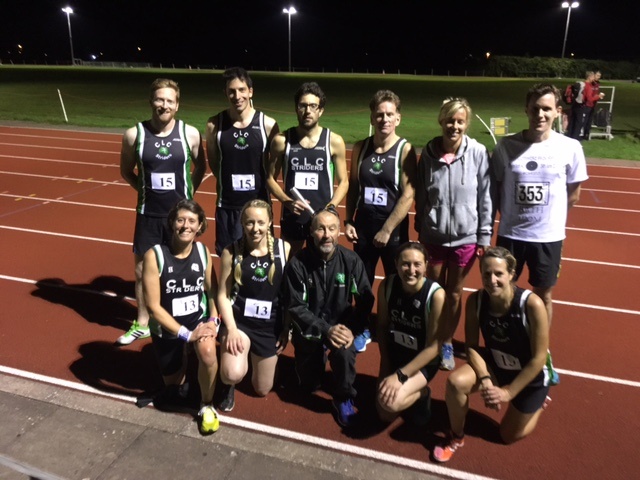 ](/images/2017/09/IMG_3420.jpg)
Parkrun 'take-over'
On the 2 September, CLC once again successfully 'took over' the volunteering duties at Cheltenham Parkrun. Managing the timing, marshalling, briefing, pacing, and recording they delivered a safe and successful park run for just over 500 runners in Pittville Park.
Meteor Mile
Later that day a handful of Striders made the short trip over to Staverton Airport to compete in the Meteor Mile on the runway there. They were led home by the vet men – with Paul Northup with a PB and club age record time of 5:26:8, Chris Hale with a PB and club age record time of 5:29:0 and Paul Lockyer in 5:32:7. Gary Smith registered 6:11:8, Martin Bick 6:15:5, Bradley Coates 6:16:4, Gordon Bendall 6:54:5 and Charlie Haward, after race directing the Parkrun in the morning, came in in 7:26:6.
---
After a busy summer on the track, Striders are now preparing for the Cheltenham Half and the cross country season in earnest.
---
**Photo
** CLC Athletes at Blackridge Track in Gloucester for the Gloucestershire County Champs on 1 September
Back row, left to right: Joel Freeland, Iain Porter, Will Ferguson, Andrew Gage, Hannah Monro, Alex Monro
Front row, left to right: Amanda Steer, Nicola Weager, Coach Brendan Ward, Patricia Sturgess, Rachel Vines
---