Midsummer Open (5.7.17) and Evesham 10k
« back
11 July 2017
approx 2 mins read.
The first Cheltenham Harriers Midsummer Open meeting on Wednesday 5 July saw a good contingent of CLC Striders competing in the Mile race and the 200m.
In the Mile, the first three Striders to compete were Will Fergusson, Sam Baylis and Iain Porter. A fast pace was set and Fergusson was pleased to finish inside his target time – in his first outing over this distance this season – with 4:34:1, achieving the club's highest age grading on the track this season. But performance of the night perhaps came from Baylis as next Strider home. Saying he wanted to "put down a marker", Baylis well and truly threw down the gauntlet, finishing not far behind Fergusson in a scorching time of 4:42:1. Porter, just back from cycling Lands End to John O Groats, finished just out side five minutes in 5:03:1.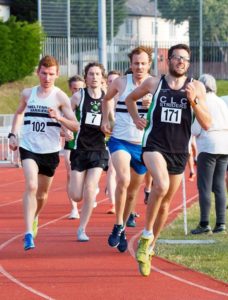 ](/images/2017/07/19642473_10155388129172357_5013573814625947373_n.jpg)
In the next wave, the Striders were led home by Chris Driskell, finishing the mile in a gritty 5:11:1. He was followed home by club ladies captain Rachel Vines in a brilliant 5:27:8, a new club record in what is proving to be her strongest track season to date.
In the next wave the ever-competitive Patricia Sturgess clocked a superb 5:49.0 and super vet JJ Willson finished in 5:52.7, smashing the club's age category record.
In the final wave, Amelia Mullins clocked her first club age category record of the night with a really strong 6:04.7, super vet Andrew Gage achieved his fastest mile time in 6:13.8, Gavin Jerman registered 6:18.0 and Emma Abbey finished well inside the seven-minute mark in a time of 6:42.9.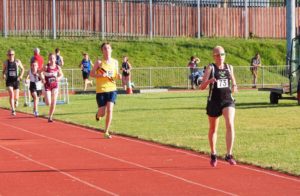 Later in the evening three Striders competed in the 200m sprints, with Paul Lockyer clocking 27.4, JJ Willson finishing in 31.8, Amelia Mullins achieving her second club age category record of the evening in 36.6, and Emma Abbey bagging 38.6.
---
Evesham 10k, Sunday 9 July
Meanwhile, on Sunday 9 July, a good group of Striders ran in the Evesham 10k. Alex Munro was first Strider home, just one second outside the 40-minute mark, in 40:01. Hannah Munro finished in 48:20, Martin Bick in 50:50, Bradley Coates in 51:19, Gordon Bendall in 52:29, Jill Hooper in 53:26, Martin Bruton in 53:16 and Dawn Adinall in 56:23.
---