Race reports for 23 – 29 May 2017
« back
30 May 2017
approx 2 mins read.
Another busy week of racing for CLC athletes saw runners competing in races as far flung as Sicily and Liverpool!
The week began with four Striders competing up at the Tipton track at the BMC meeting on Tuesday 23 May. Sam Baylis ran a scorching 9:38 in the 3,000m, while, in the 1,500m, Chris Driskell posted 4:53, Rachel Vines got close to the five-minute mark in a superb time of 5:05, and Karlien Heyrman finished in 5:24.
On Wednesday 24 May, Paul Northup posted a new club age category record in the Gloucester 5k road race over at Haresfield, completing the tough course in 18:50. Vet Gordon Bendall also represented the Striders, finishing in a time of 24:27.
On Thursday May 25, stars of Me and My Dog Andrew Paterson and Betty finished 3rd overall in the Forest of Dean Fountain Five (mile race) in the canicross class.
On Saturday 27th May, Gareth Harries flew the Striders' flag in Uditore's second anniversary Parkrun in the Mediterranean heat of Sicily, finishing in a time of 20:02.
A day later, also over in Europe, JJ Willson completed the Brussels 20k in a time of 1:31:34 around a course with 304m of ascent and in 30+ degree temperatures.
On the same day, up in the north-west, family members Janet Mustoe and Kyle Sollars completed the Liverpool Half and Liverpool Marathon respectively. Both really enjoyed the outing, with Mustoe clocking 2:11:54 for her Half and Sollars – making his debut at the epic distance – coming in under the magic four hours in a time of 3:51:36 for his first ever marathon.
Closer to home, in Newbury, Dan Harte enjoyed a multi-terrain 10k, finishing in a time of 51.00. And Edward Collier completed the hot and hilly Dymock Half Marathon.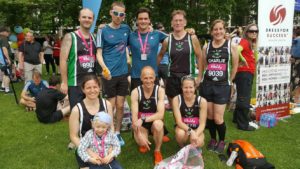 ](/images/2017/05/London-Vitality-10k.jpg)
And finally, up in the Capital, nine Striders competed in the Vitality 10,000 event around the iconic London city streets on Monday 29 May. In hot and humid conditions, Will Pearce led the team home in a super-quick time of 37:28. Rich Shardlow was next in a great time of 39:02. Vet Andy Brookes clocked a very solid 40:50. Liza Barry was first Strider lady home in 41:13. Andrew Gage finished in 46:24. After some touch racing recently, Chris Driskell and Rachel Vines jogged round together, both finishing in 49:02. Chris Thomas registered 50:50 and Charlie Haward 52 minutes exactly.
---