Glos County Track & Field Championships, Blackbridge Jubilee Track - 14/05/2016 - 15/05/2016
« back
15 May 2016
approx 1 min read.
CLC Striders' Karlien Heyrman won gold in the 3000m (11.31.3) on day one of the County Track Championships  held at Blackbridge, Gloucester. This was Heyrman's first county title. In the same race Amanda Steer ran well to win Gold (12.01.3) in the LV45 age group. Both ladies are pictured with their county medals.
In the Mens 5000m Iain Porter ran 16.36.5 in an  excellent race to hold off Cheltenham's Andy Prophett in a sprint finish for fourth place. MV40 Jon Howes in the same race, won an excellent Silver medal to boot and ran a swift 17.47.8.
On day two of the county track champs MV40 Paul Lockyer won Gold in the 800m (2.29.5) and won Silver in the 100m (13.6) Lockyer also took Gold in the 400m (62.3) This was a faboulous achievement.
Will Ferguson ran strongly to win Gold in the men's 1500m ( 4.17.1); following Ferguson  MV40 James Oram stormed to an excellent 4.24.4 to take Gold. Sam Bayliss followed in a brisk 4.30.0; Joel Freeland ran a fine race to record 4.51.3, Tom Vickers had the run of his life and followed Freeland in 4.52.2, Andrew Gage put  in a sterling performance stopping the clock at 6.03.3.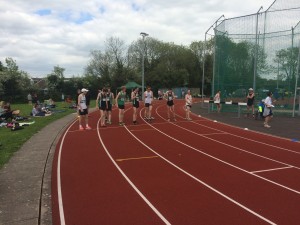 ](/images/2016/05/IMG_0668.jpg)
---