2019 end of summer road round-up
« back
2 September 2019
approx 2 mins read.
Oldbury 10-mile
Sunday, September 1st
Four Striders travlled south to race the annual 10-mile road race around Oldbury to mark the start of meteorological autumn. Helen Knight led he club home as the 3rd LV40 finisher in a new club record time of 1:09:12. Meanwhile, Amanda Steer finished 1st in her V45 category in 1:12:32, Gary Smith ran a solid 1:13:23 and Mike Crossely came home in 1:23:36.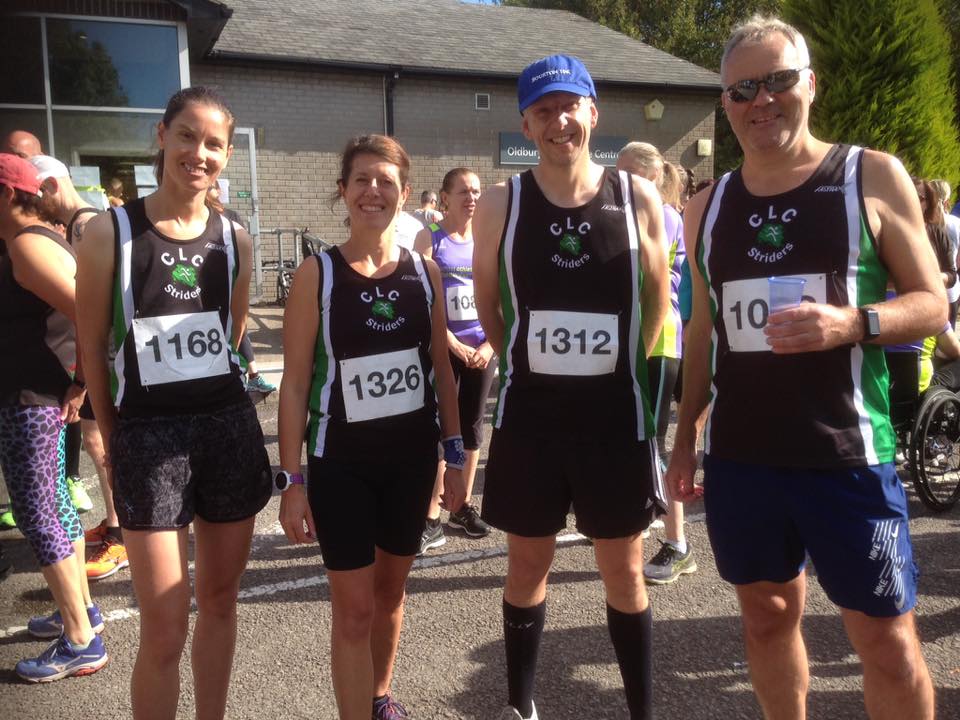 From left  to right: Helen Knight, Amanda Steer, Gary Smith. Mike Crossley
Cotswold Trail Half
Sunday September 1st
On the same first of September morning, three Striders travelled north to race in the Cotswold Trail Half around the Winchcombe hills and footpaths. Challenging but fun, Eoin McQuone was 1st home for the club in 1:50:47, with Ed Thompson finishing in 2:02:11 and Gavin Jerman in 2:02:36.
Meteor Mile
Saturday August 31st
The annual Meteor Mile was run on the runway at Staverton airport under a setting sun on a fine and dry end-of-August evening. Fast and flat, five Striders clocked good times on the night. Amelia Mullins was the first club finisher in a fast 6:15, Mike Speke ran a PB of 6:18, Andrew Gage clocked 6:25, Nicola Weager finished in 6:32, and David James set a new club MV65 record in 6:44.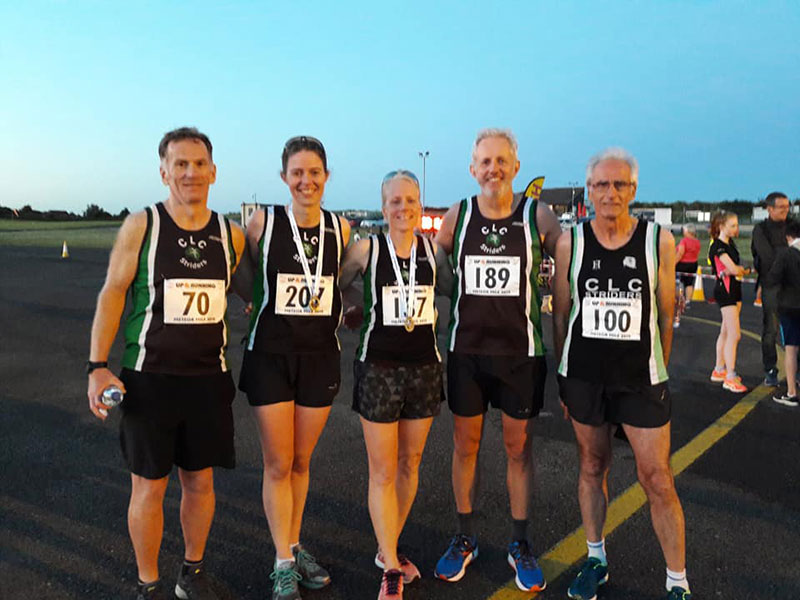 From left to right: Andrew Gage, Nicola Weager, Amelia Mullins, Mike Speke, David James
Summer road race retrospective
Bugatti 10k
Wednesday August 7th
The Almost Athletes-organised evening Bugatti 10k on 7th August saw four Striders compete around the roads at the base of the Prescott Hill Climb. Tim Brock registered a 10k PB time of 45:36, Andrew Gage clocked 46:45, Ed Collier finished in 47:11 and Mike Speke ran a solid 52:20.
Gloucester 5k
Thursday August 1st
In the County Champs Road 5k, run around the lanes at Haresfield, south-east of Gloucester, Jon Howes came away with a hard-won bronze MV40 medal in a time of 18:23, Eoin McQuone registered a fast 19:26, Rich Shardlow clocked 20:26, Amelia Mullins won bronze in LV40 in a time of 21:27, Andrew Gage finished in 21:55, Helen Howes in 22:41 and MV60 runner David James clocked 23:00.
Thornbury 10k
Thursday 11th July
Back in mid-July, Helen Knight and Amanda Steer competed in the Thornbury evening 10k race, run on undulating country lanes. A friendly and well-marshalled race, Helen finished as 4th lady and 1st in her LV40 category in 42:33, while Amanda finished as 5th lady and 1st in her LV45 category in 42:59.
---