Gloucestershire League Cross Country - Blackbridge, Gloucester - 05/11/2016
« back
7 November 2016
approx 1 min read.
A squad of 25 CLC Striders made the short trip to Gloucester to compete in the second fixture of the Gloucestershire Cross Country League season held on the flat and fast Blackbridge course
The Striders ladies were first to tackle the blustery conditions and were led out by Liza Barry who stayed strong throughout the race to finish in 9th place. Joining Liza in the ladies A team was Rachel Vines finishing just 30 seconds later in 15th position and Helen Hucker in 26th place, ensuring the ladies finished as the 4th placed team on the day. Amelia Mullins was the next strider home in 41st with Trish Sturgess close behind in 46th. Recent Striders signing Nicola Weager ran well to finish in 62nd closely followed by Becky Reynolds in 75th. Hannah Munro made her club cross country debut and ran strongly to secure 91st place amongst a flurry of fast finishers. Emma Abbey (95th), Amy Underdown (96th), Jill Harsent (129th), Zoe Gough (142nd) and Amanda Pill (150th) completed the ladies squad
Missing numerous first team regulars the Striders men were always going to be up against it in a competitive field of runners and with five laps lying ahead of them. The men's race got off to a fast start with recent Stroud Half Marathon winner David Bell of Cirencester AC breaking away from the main pack early on in the first lap. Amongst the chasing pack was CLC Strider Will Ferguson who favoured the fast course and ran strongly to secure 4th place overall and first finisher for the Striders A team. Al Newton (65th) and JJ Willson (115th) were the next Striders home after solid runs. Andrew Paterson continued to demonstrate his dramatic improvement this year to finish in a superb 125th just ahead of Andy Brookes in 128th and the in-form Clark Lawson completed the scoring for the A team in 132nd place. Courageous running from the supporting cast saw the men's A team finish in 15th place on the day.
The Striders men's B Team comprised of Neil Broadbent (135th), Joel Freeland (145th), debutant Alex Munro (147th), Gordon Bendall (200th), David James (214th place and 3rd Vet 65) and Chris Thomas (217th)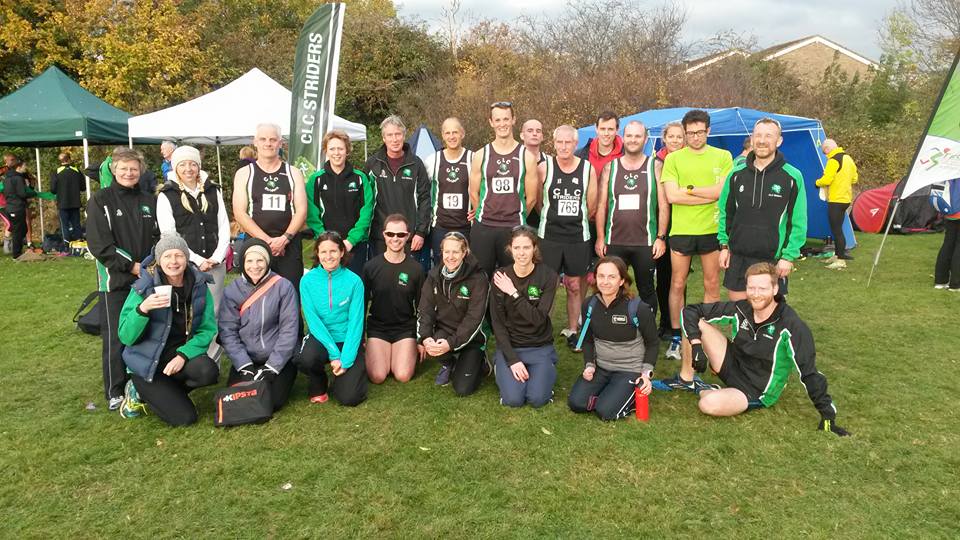 ](/images/2016/11/Team-Striders-Blackbridge-XC.jpg)
---