County Championships – 9th January 2016
« back
15 January 2016
approx 2 mins read.
Thirteen brave and hardy CLC Striders took part in the Gloucestershire County cross country championships in the Forest of Dean on Saturday 9th January 2016. 
This is the second year in a row that the championships have been held here and the course is a mixture of field and a wooded section. Conditions were tough as the amount of recent rain had made the ground very hard going. There was also torrential rain and some hail during the race itself. 
The ladies race was first and Liza Barry lead the club home in an excellent 5th place. The scoring A team was completed by Rachel Vines in 10th and newly appointed Vice Captain Karlien Heyrman in 11th who battled against each other and the elements! 
Next home for the club was Amelia Mullins who put in a very strong performance finishing in 14th place (3rd LV40). Mullins was closely followed by Amanda Steer in 15th and 1st LV45. Both Emma Abbey and Helen Rawcliffe ran well to finish in 25th and 30th place respectively. The ladies were first team on the day and the masters team were 2nd.  
In the men's race Iain Porter put in another strong performance finishing in 9th place. Thriving in the tough muddy conditions Porter made a strong start and ensured that he was well towards the front right from the outset. As the race went on, Porter found himself in a group which included guest runner Peter Ward of Chepstow Harriers and veteran campaigner and stalwart Roger Mullins of Cheltenham Harriers. 
In a show of excellent form that Porter has sustained throughout the season and despite a sustained challenge from the Cheltenham harrier he finished in an excellent 9th place. This puts him in strong contention for a place in the Gloucestershire team for the Intercounties cross country championships which takes place in Birmingham on the 12th of March. 
Meanwhile Striders were well represented further down the field with Rich Shardlow and Jon Howes the next to feature. Shardlow initially set the pace however in a return to form, Howes past Shardlow to finish in an excellent 29th with the V45 athlete following closely in 30th. Completing the men's team were David Billingham (44th) John Willson (46th and 2nd V55) and David James who had an outstanding run to finish in 53rd place and first V65. The men's team finished 5th team on the day.
CLC results
5 Liza Barry
10 Rachel Vines
11 Karlien Heyrman
14 Amelia Mullins
15 Amanda Steer
25 Emma Abbey
30 Helen Rawcliffe
9 Iain Porter
29 Jon Howes
30 Richard Shardlow
44 David Billingham
46 John Willson
53 David James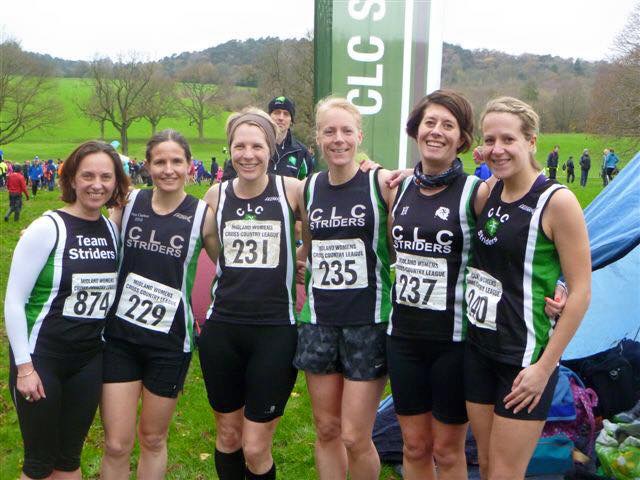 ---