Staverton 10 - 31.01.2016
« back
31 January 2016
approx 1 min read.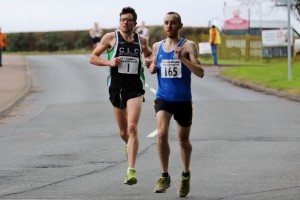 ]
STAVERTON 10M RESULTS 31 JANUARY 2016
There was an excellent showing for CLC Striders in the club's inaugural Staverton 10 Mile Race.
With the majority of the club marshalling or helping, Striders still had a strong showing at the sharp end of the race.
Leading the way from the start was Will Ferguson.  Although Ferguson had company from Matthew Jones of Sunderland Harriers and AC for much of the race, the Brendan-Ward-coached athlete made a break at 7 miles, and had established a winning 1 1/2 minute lead by the end.
Next for the Striders in 3rd place and showing excellent pacing was Nick Barry with an excellent time of 56:42.  He was followed in the top 10 by James Oram who finished 6th with a time of 58:35 and by Iain Porter who  finished 8th with a time of 58:48.
Finally, in the women's race, the club was well represented by Liza Barry who finished 39th overall and 2nd lady in an excellent time of 66:37.
There were 176 finishers in this first running of the Staverton 10, and CLC Striders are extremely grateful to everyone who helped to organize and run it.
---